5 Seconds of Summer Siap Menyerang dengan Album Perdana!
May 15, 2014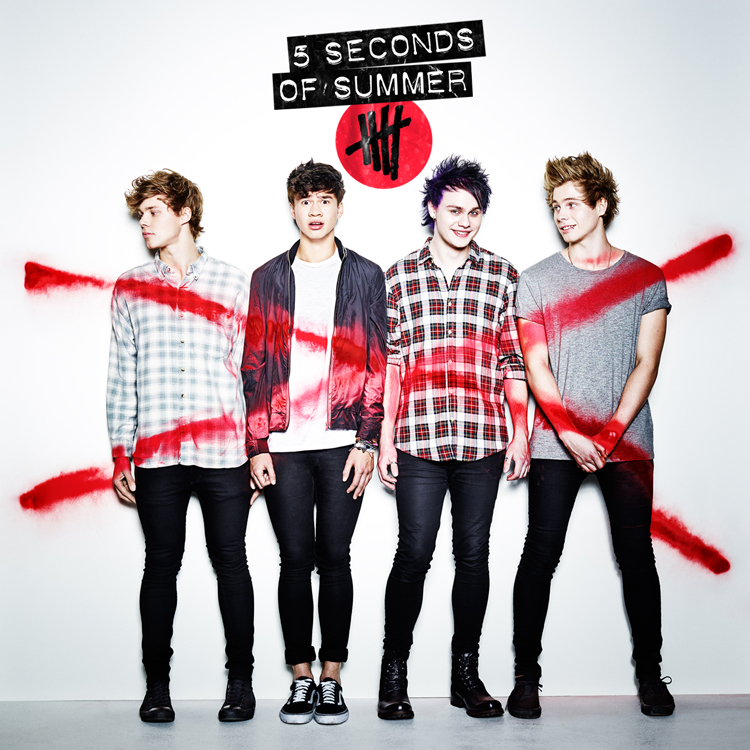 Michael Clifford, Calum Hood, Luke Hemmings dan Ashton Irwin atau yang kita kenal sebagai 5 Seconds of Summer, akan merilis album perdana mereka pada tanggal 22 Juli mendatang. 24 jam sebelum pengumuman resmi mengenai album yang juga diberi titel "5 Seconds of Summer," tim global marketing 5 Seconds of Summer menyelenggarakan campaign dengan sebuah game bernama "Hungry 5SOS." Permainan online yang menyerupai game klasik "Pacman" ini, menampilkan para hantu yang menyerupai keempat personil 5 Seconds of Summer. Maskot 5 Seconds of Summer, "Ketchup," tampil sebagai Pacman.
Setelah mendapatkan guitar bonus, setiap fans yang memainkan game "Hungry 5SOS" dapat mendengarkan 30 detik cuplikan dari 4 lagu terbaru 5 Seconds of Summer. Lagu-lagu yang dapat didengarkan, antar lain: "Amnesia," "Kiss me kiss me," "Good Girls" dan "Everything I Didn't Say." Saat pertama peluncurannya, game "Hungry 5SOS" yang bisa dimainkan di www.hungry5sos.com ini, langsung dibanjiri oleh 1,5 juta fans yang membuat website-nya crash dan menjadi trending topic worldwide di Twitter. Hal ini membuktikan kehebatan fans 5 Seconds of Summer dalam mengantisipasi kehadiran album baru band kesayangan mereka.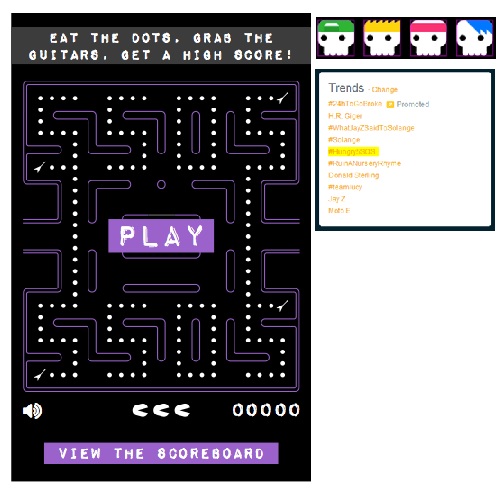 Album perdana 5 Seconds of Summer menampilkan kolaborasi dengan beberapa produser dan musisi terkenal, seperti: John Feldmann (All Time Low, Good Charlotte, Boys Like Girls), Jake Sinclair (Fall Out Boy, Pink), Steve Robson (Busted) dan Madden Bersaudara dari Good Charlotte. "5 Seconds of Summer" direkam pada awal tahun 2014 di kota LA. Berbagai lagu dengan nuansa Pop Punk Anthem, siap untuk dinikmati oleh para fans setia 5 Seconds of Summer melalui album ini.
Band yang berasal dari Sydney Barat ini, akan kembali mendukung tour stadion dari boyband tersukses di dunia, One Direction, yang dimulai pada tanggal 23 Mei 2014. Bagi para fans 5 Seconds of Summer di Indonesia, nampaknya masih harus bersabar untuk menanti kehadiran band favorit mereka di negara kita. Tetapi, sebelum 5 Seconds of Summer benar-benar akan tampil di Indonesia, fans bisa melakukan pre-order album perdana mereka melalui link ini: http://smarturl.it/5SecondsofSummer-iT.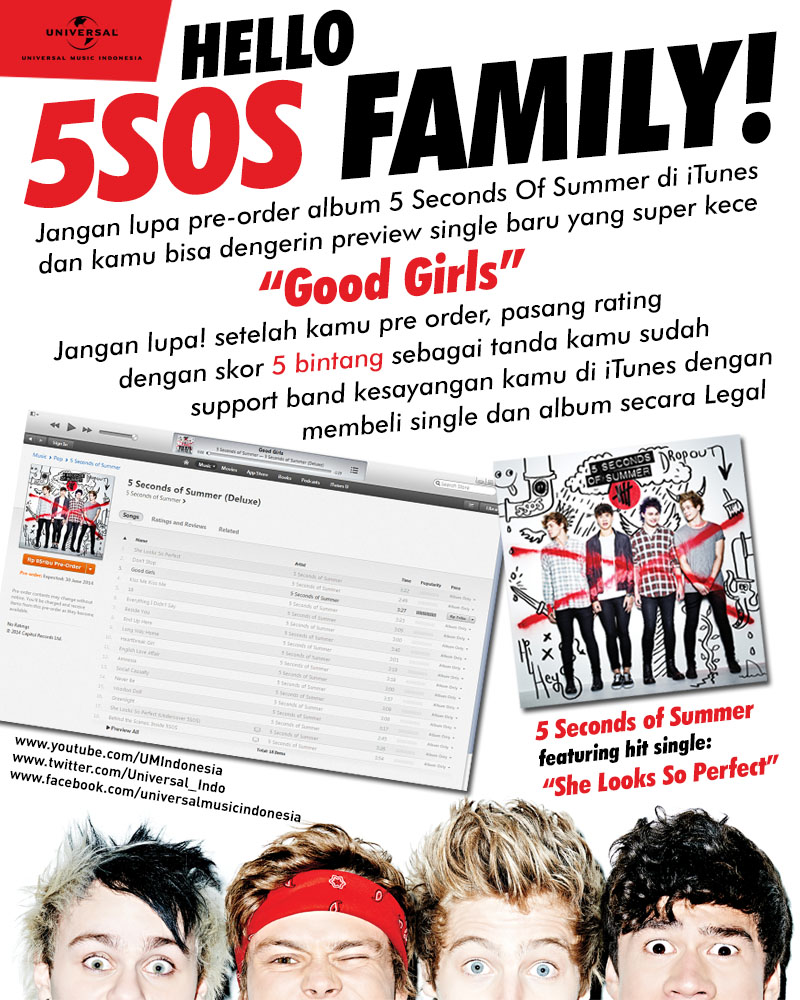 Artis: 5 Seconds of Summer
Judul: 5 Seconds of Summer (Deluxe Edition)
Tracklist:
01. She Looks So Perfect
02. Don't Stop
03. Good Girls
04. Kiss Me Kiss Me
05. 18
06. Everything I Didn't Say
07. Beside You
08. End Up Here
09. Long Way Home
10. Heartbreak Girl
11. Lost Boy
12. Amnesia
13. Social Casualty
14. Never Be
15. Voodoo Doll
16. Green Light
17. Perfect (Undercover 5SOS) – video
18. Behind The Scenes: Inside 5SOS – video