"Om Telolet Om" Menjadi Judul Single Baru Dawin ?
December 24, 2016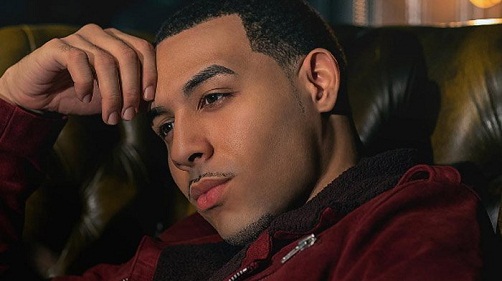 Baru-baru ini, bunyi klakson bus "Telolet" telah menjalar hingga ke panggung internasional. Sederet musisi dunia seperti Zedd, Martin Garrix, DJ Snake, Alesso, hingga The Chainsmokers riuh mencuitkan frasa "Om Telolet Om" di official twitter mereka. Bahkan ada pula yang membuatkan versi musik remix-nya.
Seolah tak mau ketinggalan, penyanyi Dawin pun ikut nimbrung dalam perbincangan seputar "Om Telolet Om." Melalui akun twitter-nya, pelantun single "Jump Shot" ini mengatakan kata-kata tersebut bisa menjadi judul single berikutnya. "I think OM TELOLET OM should be the name of my next song" tulis Dawin. Sontak cuitan ini pun langsung mendapatkan respon heboh dari penggemarnya. Tercatat, postingan Dawin itu telah di retweet sebanyak 12 ribu kali dan di likes 6 ribu lebih oleh pengguna Twitter.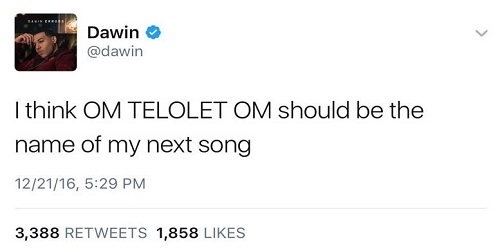 Banyak para penggemarnya pun yang mengaku tidak sabar mendengar single barunya yang berjudul "Om Telolet Om" tersebut. "Om Telolet Om" sendiri memang tengah menjadi trending topic di Twitter. Kata-kata tersebut menjadi fenomenal saat anak-anak pengejar klakson menyebarnya video mereka di media sosial. Sementara itu, Dawin sendiri dikenal publik sejak merilis single "Dessert" yang merupakan hasil kolaborasi bersama Silento pada tahun 2015 lalu. Ia juga pernah menggelar pertunjukkan di Indonesia. Kini, ia sedang bersiap meluncurkan album terbarunya, yang berjudul "Errors."