Bilbo Baggins Tampil di Poster Terbaru "The Hobbit: The Battle of The Five Armies"
October 8, 2014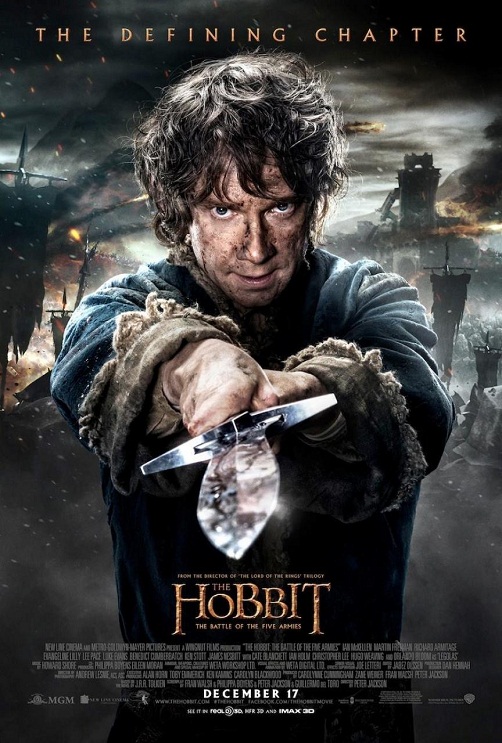 Kabar gembira datang dari Film "The Hobbit: The Battle of The Five Armies." Rupanya Warner Bros terus menggoda penggemarnya dengan poster-poster film yang baru saja dirilis. Poster terbaru ini, menampilkan karakter Bilbo yang diperankan oleh Martin Freeman. Dalam poster ini, Bilbo terlihat lusuh dengan mengangkat sebuah pedang panjang ke arah depan, lengkap dengan Middle Earth yang tampak terbakar akibat peperangan besar. Pada poster ini juga terdapat tagline yang bertuliskan "The Defining Chapter."
Film "The Hobbit: The Battle of the Five Armies" dibuat berdasarkan novel "The Hobbit" karya J. R. R. Tolkien. Sejumlah bintang yang akan tampil yakni Benedict Cumberbatch (Naga Smaug), Ian McKellen (Gandalf), Evangeline Lilly (Tauriel), Orlando Bloom (Legolas) dan Richard Armitage (Thorin Oakenshield).
Film ini masih berpusat pada petualangan Bilbo Baggins (Martin Freeman) dan para kurcaci. Dikisahkan, Perjalanan Bilbo Baggins, Thorin Oakenshield dan para Dwarves akan berakhir pada sekuel ini. Meskipun para Dwarves telah berhasil merebut kembali rumah mereka, ternyata secara tidak sengaja melepaskan naga Smaug keluar dari sarangnya. Akankah mereka juga mampu mengalahkan sang Naga?
Akhir kisah dari perjalanan Hobbit ini akan tayang di bioskop dalam format 2D, 3D, HFR 3D (High Frame Rate, kedetilan gambar lebih tajam), dan layar raksasa IMAX 3D mulai tanggal 17 Desember 2014 mendatang. So harap bersabar ya Flagers semua untuk menunggu kedatangan film ini.