4 Poster Film "Fantastic Four" dengan Anggota Terbarunya
May 6, 2015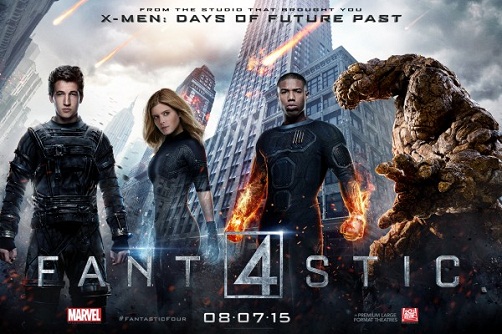 Studio 20th Century Fox baru saja merilis 4 poster karakter terbaru dari film kelompok superhero "Fantastic Four" versi reboot. Keempat poster barunya tersebut menampilkan empat anggota "Fantastic Four" dengan wajah-wajah baru mereka. Ada Miles Teller yang akan berperan sebagai Reed Richards (Mr. Fantastic) yang memiliki tubuh lentur. Kate Mara yang akan memerankan tokoh Sue Storm (The Invisible Woman) yang dapat menghilang. Michael B. Jordan yang akan berperan sebagai Johnny Strom (The Human Torch) dengan kekuatan api disekujur tubuhnya. Dan tentu saja Jamie Bell yang berperan sebagai Ben Grimm (The Thing) sang raksasa batu.
Bintang-bintang muda ini tentunya menggantikan para pemeran "Fantastic Four" di dua film terdahulu Jessica Alba, Ioan Gruffurd, Michael Chiklis, dan Chris Evans. Sayangnya pemeran musuh utama 'Doctor Doom,' Toby Kebbel justru belum diberikan poster karakter solonya oleh 20th Century Fox.
Film reboot "Fantastic Four" akan mengisahkan tentang empat sahabat yang dikirim ke luar angkasa dalam sebuah misi khusus. Namun naas, saat mereka berempat berada disana, mereka mendapat kecelakaan yang merubah fisik mereka selamanya dengan kekuatan masing-masing. Sesampainya di bumi, mereka mulai melatih 'kekuatan baru' yang didapatkan tersebut dan menggunakannya untuk menyelamatkan dunia dari serangan kawan lama yang kini menjadi musuh yang sangat jahat, Doctor Doom. Aksi Mr. Fantactic, The Invisible Woman, The Thing, dan The Human Torch dalam 'Fantastic Four' bisa Flagers saksikan di bioskop mulai tanggal 7 Agustus 2015 mendatang. Berikut 4 poster karakter terbaru dan trailernya!
Comments Closed