Ikuti OBB Mini Photo Contest & Menangkan Hadiah Total 10 Juta!
February 10, 2014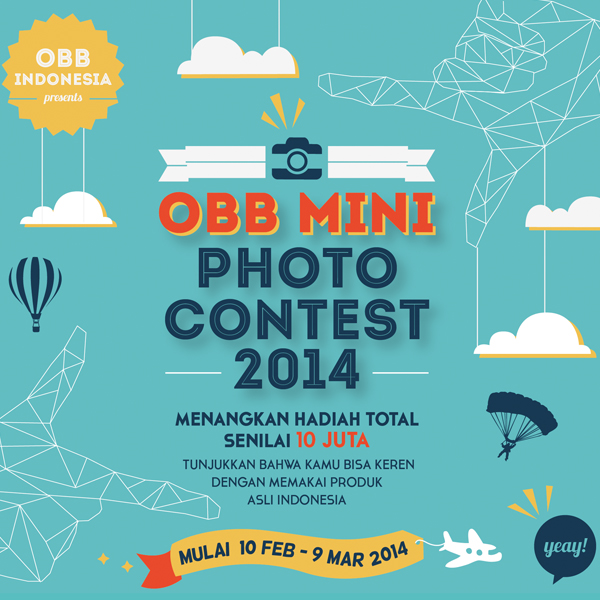 Hello fashion-savvy! Online Brands Bank Indonesia (OBB) yang setia dalam memberikan pilihan brand lokal terbaik, menyelenggarakan "Mini Photo Contest" yang bisa kamu ikuti. Kontes ini diadakan khusus untuk kamu yang memiliki passion untuk dunia fashion, terutama dalam gerakan perkembangan brand lokal. Jangan khawatir, kontes ini sangat simple dan berhadiah dengan nilai total Rp.10 Juta Rupiah.
Kamu hanya perlu melakukan 4 hal simple. Membeli produk apapun di "Product Sample Store" OBB dengan nilai minimum Rp.150,000.-, mix and match produk lokal pilihan kamu dengan cara sekreatif mungkin, foto dengan mengenakan produk tersebut, kirimkan ke OBB dan menangkan hadiahnya!
Tunjukkan pada dunia bahwa kamu bisa terlihat stylish dengan memakai brand lokal Indonesia. Gampang kan?
Dan, yang kamu tunggu-tunggu! Inilah hadiah-hadiah yang akan dibagi-bagikan…
Pemenang pertama akan mendapatkan voucher menginap di Hotel The 101 Legian Bali untuk 2 malam, dengan nilai Rp.5 Juta Rupiah. OBB menjamin kalau Hotel ini adalah tempat terbaik untuk menginap di Bali. Tunggu, bukan hanya itu saja, kamu juga akan mendapatkan uang saku Rp.200,000.- untuk berjalan-jalan di Legian dan memanjakan dirimu di sana.
Pemenang kedua akan mendapatkan voucher untuk kursus fasion di Istituto di Moda Burgo Indonesia senilai Rp.2 Juta Rupiah. Bukan hanya itu saja, pemenang kedua juga mendapatkan uang tunai Rp.200,000.-.
Pemenang ketiga akan mendapatkan produk dari Alleira senilai Rp.1 Juta Rupiah, plus uang tunai Rp.200,000.-.
Bagi kamu yang mengaku gaul dan punya banyak teman, buktikan dengan mengumpulkan mereka untuk memilih kamu melalui Facebook untuk meraih gelar pemenang favorit, dan dapatkan stylish apparel dari CLOTH INC senilai Rp.500,000.-.
So what are you waiting for? Start digging and find your favorite local brand in OBB!
Untuk informasi lebih lanjut, kunjungi website OBB di: www.obb-indonesia.com