A Special Night with Demi Lovato – Live Concert
January 27, 2013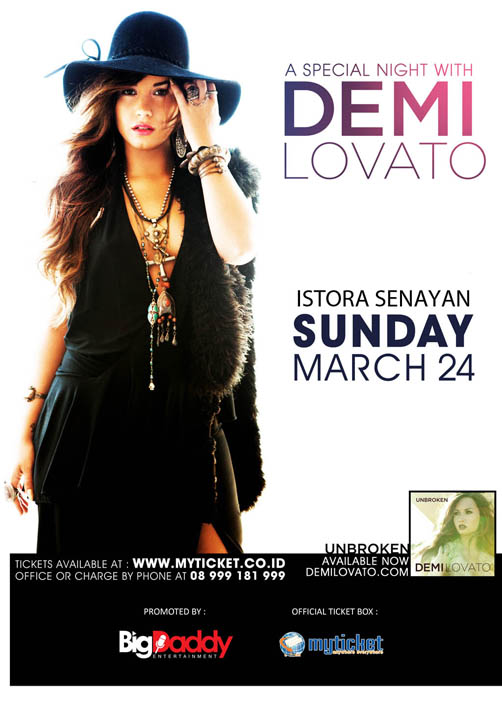 Penantian panjang penggemar Demi Lovato tidak sia-sia, akhirnya telah diumumkan bahwa Demi Lovato akan menggelar konser di Jakarta, tepatnya di Istora Senayan pada tanggal 24 Maret mendatang.
Sebelumnya pada tanggal 26 Januari, Big Daddy, promotor yang membawa Demi Lovato mengeluarkan sejumlah clue dalam serangkaian tweet mengenai nama artis yang akan di-announce untuk konser di Jakarta.

Mereka juga mengupload foto-foto yang berisi Demi Lovato, Selena Gomez, Taylor Swift dan Miley Cyrus. Big Daddy mengatakan bahwa salah satu dari mereka akan hadir di jakarta. Tentu membuat setiap orang berdebar-debar karena mengharapkan idolanya masing-masing yang diboyong oleh Big Daddy.
Big Daddy pun mengungkapkan bahwa harga tiket konser tersebut akan dijual sekitar Rp 450 ribu untuk kelas tribun dan Rp 650 ribu untuk kelas festival.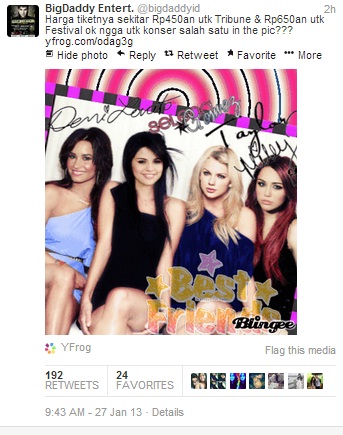 And final clue ! Big Daddy kemudian mengupload foto tato dari sekumpulan burung walet di lengan seorang gadis. Yeah, off course, she is Demi Lovato !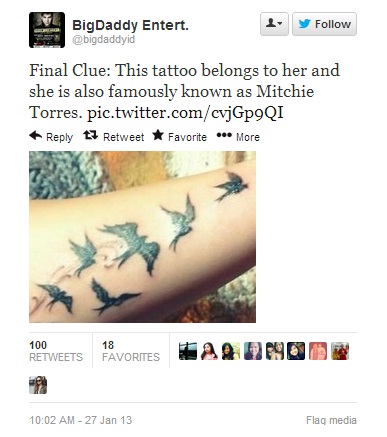 "Announcement: A SPECIAL NIGHT WITH DEMI LOVATO – Live Concert Sunday Mar 24 @ Istora Senayan. #DemiLovato_JKT," tulis Big Daddy.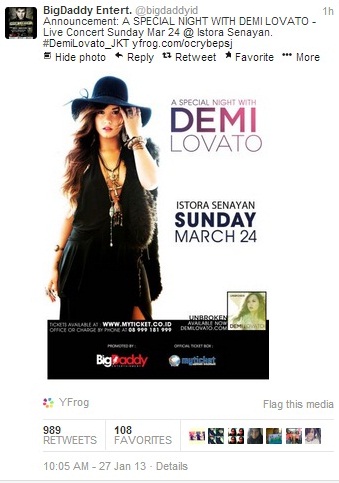 Kabarnya juga Demi Lovato tidak sendiri, ia akan membawa seorang pria tampan untuk ikut bersamanya pada tour ini. Siapa ya kira-kira flagers?

Info lebih lanjut tentang konser ini akan diumumkan oleh Big Daddy besok, Senin 28 Januari 2013.