The Lone Ranger (Starring Johnny Deep) | Trailer
May 24, 2013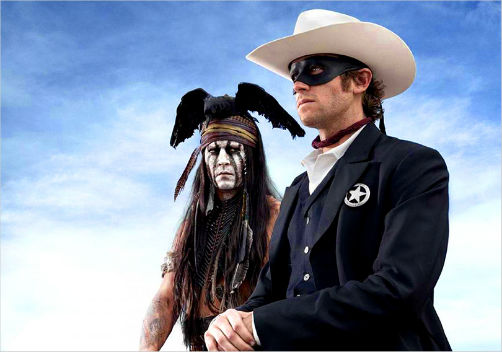 Sekitar satu bulan menjelang penayangannya, film "The Lone Ranger" yang dibintangi Johnny Depp kembali meluncurkan satu lagi trailer keren terbarunya. Di film barunya ini, Johnny bertransformasi menjadi indian kocak bernama Tonto. Kali ini ia tidak sendirian melainkan ditemani juga oleh Armie Hammer. Sekilas, film The Lone Ranger mengingatkan kita pada trilogi "Pirates of The Caribbean". Tak mengherankan, karena sutradara film ini juga adalah Gore Verbinski yang sukses menghidupkan karakter Jack Sparrow bersama Johnny Deep.
Cerita bermula ketika John Reid (Armie) sherif muda pergi bersama sang kakak. Saat berkuda bersama-sama kelompoknya, mereka tiba-tiba diserang penjahat sehingga membuat kakaknya terbunuh. Terluka parah, John akhirnya disembuhkan oleh seorang indian nyentrik bernama Tonto (Deep). Hingga akhirnya mereka menjadi duo pembela kebenaran yang berjuang untuk melawan para penjahat.
Selain Johnny Depp dan Armie Hammer, film ini juga dibintangi oleh Tom Wilkinson, William Fichtner, Barry Pepper, James Badge Dale, Ruth Wilson, dan Helena Bonham Carter. The Lone Ranger akan tayang di bioskop tanggal 3 Juli 2013.