Munculnya Sosok Spider-Man dalam Trailer Terbaru "Captain America: Civil War" │ Movie Trailer
March 14, 2016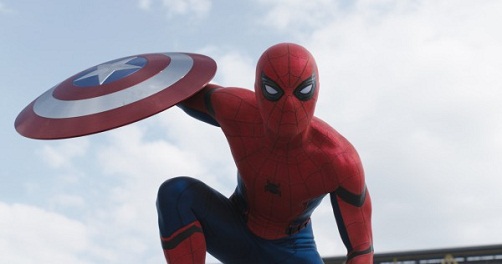 Setelah sekian lama ditunggu kehadirannya, Spider-Man akhirnya menampakkan diri dalam trailer terbaru film "Captain America: Civil War." Sang manusia laba-laba tersebut tampil mengejutkan dalam trailer terbaru film ini dengan muncul secara tiba-tiba dan merebut tameng Captain America di bagian akhir trailer. Sebuah penggambaran yang cukup jelas jika Spidey ada di pihak Iron Man.
Trailer terbaru "Captain America: Civil War" ini dimulai dengan alur yang melukiskan berbagai argumen dan diskusi yang akhirnya berujung pada perseteruan antara dua kubu ini. Satu hal lagi yang dijelaskan dalam trailer ini adalah pemicu puncak kemarahan Tony Stark kepada Bucky.
Film ini "Captain America: Civil War" sendiri mengisahkan tentang perseteruan antara Captain America dengan Iron Man yang dikarenakan perbedaan prinsip dan ideologi keduanya. Karena itu, kelompok Avengers yang sudah terbentuk sedemikan rupa akhirnya harus terpecah menjadi dua kubu. Di mana Captain America didukung oleh Ant-Man, Scarlett Witch, Falcon, Hawkeye dan Winter Soldier. Sedangkan Iron Man didukung oleh Black Widow, Vision, Black Panther dan War Machine.
Film "Captain America: Civil War" sendiri akan dirilis pada tanggal 6 Mei 2016 mendatang lewat sutradara Anthony Russo dan Joe Russo, duo sutradara pembesut film "Captain America: The Winter Soldier." Mereka akan mengarahkan film ini berdasarkan naskah yang ditulis oleh Christopher Markus dan Stephen McFeely penulis dari film "Captain America: The First Avenger." Untuk Flagers yang penasaran dengan trailer terbarunya, yuk langsung saja check di bawah ini!