Super Bowl TV Spot : Iron Man 3 | Fast & Furious 6 | Star Trek
February 5, 2013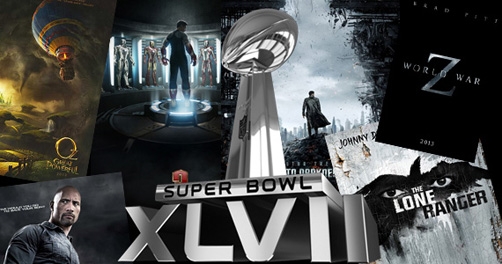 Sebagai salah satu tayangan televisi yang paling banyak di tonton di amerika serikat, tentu banyak para pemasang iklan yang rela menghabiskan jutaan dolar AS hanya untuk memasang iklan di Super Bowl.
Jika Flagers tidak menyukai sepak bola Amerika, Flagers masih bisa menikmati tayangan iklan keren yang sebagian besar dibuat khusus untuk Super Bowl.
Berikut ini adalah beberapa TV Spot edisi Super Bowl yang menampilkan trailer film Star Trek : Into Darkness, Iron Man 3, dan Fast & Furious 6.
Lebih dramatis dibandingkan trailer sebelumnya, dan tentu saja adanya kemunculan vilain baru dalam film besutan J.J Abrams ini. Sungguh tidak sabar untuk melihat aksi Kapten Kirk di bioskop bulan Mei nanti.
Dalam trailer Extended flagers dapat melihat lebih dekat dengan sosok The Mandarin serta menampilkan aksi Robert Downey Jr. sebagai Iron Man dalam menyelamatkan 13 penumpang pesawat yang jatuh ke udara.
Fast and Furious 6 kembali membawa nama-nama Vin Diesel, Dwayne Johnson, Paul Walker, dan Gina Carano. Juga menampilkan aktor Indonesia, Joe Taslim akan berperan sebagai tokoh antagonis bernama Jah. Fast and Furious 6 akan dirilis di bioskop pada tanggal 24 May 2013.