Trailer Peperangan Luar Biasa Epik "The Hobbit: The Battle of The Five Armies" │ Movie Trailer
November 7, 2014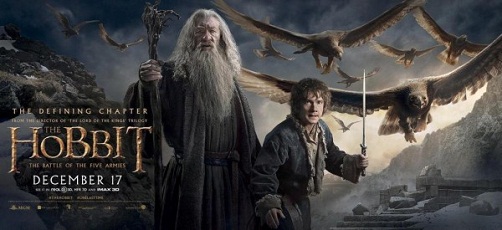 Film "The Hobbit: The Battle of The Five Armies" yang akan tayang pada Desember mendatang sepertinya kembali menggoda penggemarnya dengan merilis trailer terbarunya. Pada trailer yang berdurasi 2,5 menit yang baru saja dirilis oleh Warner Bros pada Kamis (10/7) lalu ini menampilkan adegan peperangan yang luar biasa epik antara para ras di Middle Earth ketika Thorin dan kawan-kawan yang berusaha merebut Lonely Mountain dari naga Smaug.
"The Hobbit: The Battle of The Five Armies" akan mengisahkan tentang kelanjutan petualangan Bilbo Baggins, Thorin Oakenshield, dan para kurcaci dalam merebut kembali tanah kelahiran mereka dari seekor Naga yang tamak. Dikisahkan, perjalanan Bilbo Baggins, Thorin Oakenshield dan para Dwarves akan berakhir pada sekuel ini. Meskipun para Dwarves telah berhasil merebut kembali rumah mereka, ternyata secara tidak sengaja melepaskan naga Smaug keluar dari sarangnya. Akankah mereka juga mampu mengalahkan sang Naga?
Film yang diadaptasi dari novel J.R.R. Tolkein ini disutradarai oleh Peter Jackson yang mengerjakan seluruh franchise film "Lord of The Ring" dan "The Hobbit". Akhir kisah dari perjalanan Hobbit ini akan tayang di bioskop dalam format 2D, 3D, HFR 3D (High Frame Rate, kedetilan gambar lebih tajam), dan layar raksasa IMAX 3D mulai tanggal 17 Desember 2014 mendatang. So harap bersabar ya Flagers semua untuk menunggu kedatangan film ini. Sambil menunggu, kita lihat dulu yuk trailernya di bawah ini!