Java Jazz Festival 2013 "Jazz Up The World"
January 31, 2013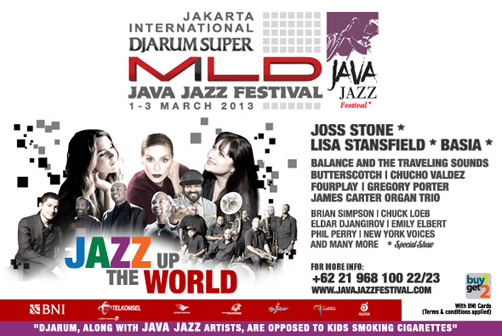 Setiap tahun, pecinta musik jazz tanah air selalu dimanjakan dengan salah satu pagelaran jazz terbesar di dunia, Java Jazz Festival. Tema tahun ini "Jazz Up The World" seakan-akan telah menjadi gambaran dari keberhasilan sebuah karya anak bangsa dalam menyemarakan kehidupan dunia dengan pesan-pesan harmoni dan perdamaian.
Di tahun yang kesembilan, Java Jazz menyajikan nama-nama besar seperti Joss Stone, Lisa Standsfield dan Basia dalam spesial show yang akan digelar, selain itu juga terdapat nama-nama seperti Spyro Gyra, Stanley Clarke, Marcus Miller, Jimmy Cliff, Phil Perry, New York Voices, Fourplay, dan masih banyak lagi.
Apalah arti Java Jazz tanpa kehadiran musisi-musisi berbakat Indonesia, dan tentu saja terdapat nama-nama "langganan" seperti Indro Hardjodikoro The Fingers, The Groove, IYR, Dwiki Dharmawan, Indra Lesmana, Barry Likumahuwa Project, Glenn Fredly dan lain-lain. Seperti tahun-tahun sebelumnya pula, terdapat show dengan tema "tribute" terhadap musisi-musisi legendaris Indonesia, salah satunya akan hadir dalam show Oddie Agam – 4 Dekade di Java Jazz Festival tahun ini.
"Kita akan tampilkan 140 band Indonesia, dan 40 artis internasional, per hari akan ada sekitar 56 artis. Sampai hari ini ada 50-60 artis yang fix," kata Eki Puradireja, project coordinator Java Festival Production (JFP) saat Press Conference di Hotel Sultan, Jakarta, Rabu 30 Januari 2013 kemarin. Eki Puradireja juga menjelaskan bahwa masih banyak nama-nama artis yang belum bisa disebutkan, tetapi mereka berjanji akan terus menambah list-list artis yang ada, dan bocorannya masih ada 1 nama artis besar lagi yang masih disimpan. Siapa ya kira-kira flagers?
Kabar gembiranya Java Jazz Festival akan disiarkan secara live via Youtube oleh First Media, menjadikan festival ini sebagai acara nomor 4 terbesar di dunia yang disiarkan streaming hit di google dan youtube. Bagi pengunjung yang beruntung pun dapat melakukan temu artis (untuk seat yang terbatas) sehingga selain menonton, para pengunjung juga dapat melakukan tanya jawab secara langsung kepada artis idolanya. Menarik kan flagers?
Harga tiket Java Jazz Festival 2013 akan naik Rp.5000,- setiap harinya, dan pada tanggal 30 Januari 2013 kemarin, harga tiket sudah mencapai Rp.460.000,- (before tax). Oleh sebab itu, bagi flagers yang ingin mendapatkan tiket dengan harga lebih murah, harus membeli tiket secepatnya sebelum harga tiket bertambah mahal. Info lengkapnya check official website mereka di www.javajazzfestival.com
Update :
Java Jazz Festival 2013 mengumumkan bahwa CRAIG DAVID akan tampil di JJF2013 pada hari Minggu, 3 Maret 2013, tepatnya di D2 Djarum Super Mild Hall, jam 20.15-21.45. Show Craig David termasuk Spesial Show, sehingga bagi flagers yang ingin menonton penampilannya harus membeli tiket spesial shownya seharga Rp. 165.000,- (after tax).